Technology
Developing Stormwater Technology with StormSensor's Erin Rothman
StormSensor's Erin Rothman shares her story on starting a new kind of sensor company for cities to solve stormwater flooding issues.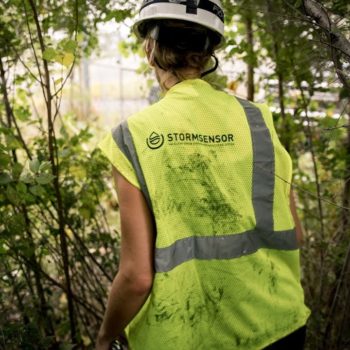 We had the pleasure of hosting Erin Rothman, CEO and Founder of StormSensor! Erin developed the first idea for StormSensor during her time working as an environmental consultant in Seattle, WA. She recognized the need to simplify the stormwater monitoring experience and data capture and identified an opportunity to develop a network of low-cost, resilient sensors that could be scaled across multiple locations. In 2016, StormSensor shifted from a software to a hardware focused company with the ideas that developed from a sponsored senior capstone project at the University of Washington. She officially founded StormSensor in 2015 and launched the product in 2019. Today StormSensor exists within 16 cities across the country and is at the forefront of the technical revolution within the stormwater space!
StormSensor for Multiple Applications
Erins described StormSensor as a performance monitoring sensor for pre and post construction that is utilized mainly within urban sewer systems. StormSensor also has the capability to be applied to various other applications such as green infrastructure. Erin explained that StormSensor can monitor stormwater or combined sewage flows both upstream and downstream of green infrastructure projects and the data can be utilized to document reduction flows before and after project construction. The result is the ability to monitor maintenance needs within green infrastructure systems. Erin notes that being able to use sensor technology in combination with green infrastructure to implement stormwater management is an effective way to be able to deploy green infrastructure much more efficiently.
To prioritize their sensor and network placement, Erin and her team are also currently working to build a software package that pulls in demographic data that identifies relative flood risk within a given community. As a result, they will be able to compile actual sensor and flood data within flood risk areas to confirm preliminary findings. Furthermore, Erin and her team are going to begin to incorporate drones and imagery to support their visualizations to better understand and conceptualize systems within a diverse groups of neighborhoods.
Support to Build Your Network
When asked for advice for those looking to start their own companies and take a similar approach as herself, Erin provided two key points: Keep your day job and don't go at it alone. Erin emphasized the importance of economic support by keeping your day job as a source of income in the transition period of building your company. Secondly, she credits her success to her network made up of investors, advisors, colleagues, peers, and many more. She emphasized talking to as many people as possible in the beginning, even if it's just for a 30-minute virtual coffee, to build a network from the ground up!