Graniterock Establishes a Centralized Digital Solution for Environmental Compliance
Construction materials leader enhances company-wide compliance and accountability

Business Needs
Easy access to critical inspections and reports
The 18 Graniterock locations span a distance of over 100 miles between their southern-most point of Monterey, California, and the San Francisco Bay Airport Area. Across their facilities, teams used no less than 20 different methods of recordkeeping, primarily in outdated, physical binders.
Graniterock's sites are responsible for tracking and adhering to strict environmental and safety regulations which, like many companies, they completed manually. Unfortunately, it was difficult to locate critical stormwater and air emissions reports when they were needed for inspections. Environmental Engineers frequently had to visit individual sites and help perform and update inspections to address corrective actions.
"The only way to figure out who was doing what was to go to the branch and see what was happening – see what was in the binder. And if there was something missing by the time we did that, there was no way to get it back because it was already over." Reed Carter, Environmental Manager, Systems and Compliance, Graniterock
There are between five and 10 inspections from third-party agencies performed per site annually. The antiquated and inaccurate record-keeping opened the company up to costly corrective actions and lawsuits.
"Before we had a robust tracking inspection and corrective action system, we were finding things on the fly. It was raining, something flooded, we realized we needed to do something and we needed to do it now. We got all hands on deck to fix it. But that's rushing parts, that's rushing equipment, that's rushing people which is not cost-effective or safe. You're out there in the rain and you're doing something that probably shouldn't be done in the rain. It should have been done before a rain event." Reed Carter, Environmental Manager, Systems and Compliance, Graniterock
It was increasingly clear Granitrock's team needed a comprehensive solution to update inspection processes and get everyone a step ahead of potential disaster.
Graniterock is a family-owned and operated construction materials and contracting company based in California. The company has been in business since its flagship quarry opened for operation in 1900. It has consistently supplied the Monterey and San Francisco Bay Area with high-quality aggregate, sand, concrete, hot mix asphalt, and other building materials.
Besides premiere building material production, Graniterock's Construction Division is recognized as a leader in heavy civil infrastructure projects. The company also operates its own Transportation Division to deliver quality products directly to job sites across the state of California.
INDUSTRY
Construction Materials
COMPANY SIZE
15 plants
650 employees
Mapistry Platform
EHS Analytics
Inspections
Mapping
Water Compliance
Air Compliance
Resources
Solution
Centralized digital inspections and record-keeping
Before implementing Mapistry, Graniterock's site managers and environmental engineers struggled to sift through binders to find essential inspection reports during both internal and external audits. In fact, on-site teams often didn't know what was expected of them or where critical documents were located.
Mapistry's centralized and digitally-accessible platform provides Graniterock's key stakeholders with intuitive visibility of reports across all sites. They, now, can easily assess the effectiveness of their compliance initiatives. By working with Mapistry's team to customize the user dashboard for Graniterock's needs, inspection requirements, forms, and tasks are easy to assign, locate, and complete. Most importantly, critical data is accessible to all members of their teams.
Centralized digital inspections and record-keeping
"The corrective actions feature is so critical because we always say, "if you can't prove it, it didn't happen." So if you find something on an inspection, it doesn't matter if it got done if it's not provable. Being able to close out a corrective action on a certain day with a picture and somebody signing off or assigning it to other people, that's super valuable for all of us."

Reed Carter, Environmental Manager
Systems and Compliance at Graniterock
Improved accountability and collaboration
Since onboarding with Mapistry, all employees from field staff to executives have access to consistent and accurate information. Critical data is no longer siloed in cluttered binders across several plants. The sharing of information and the ability to track tasks, corrections, and changes to compliance processes company-wide helps site managers see areas of improvement and share valuable data between sites.
Using Mapistry tasks to assign and track updates day-to-day has created a valuable means to validate inspections and corrections.
Graniterock has renewed reliability and accountability in their compliance reporting. With everyone on-site knowledgeable of where they stand from one inspection to the next, they are making positive impressions on inspectors.
Company-wide visibility and engagement
Where inspection forms were frequently pencil-whipped or potentially left undone, Graniterock's team members are taking new initiatives since teaming up with Mapistry.
"It's just driven so much more engagement, that's the big one. Everybody has insight into what's happening at their branch in real-time. If any of the branch managers or, for that matter, the division managers that oversee several branches are curious about what's happening on their branch, Mapistry shows the production for that day. You can see what's happening." Reed Carter, Environmental Manager, Systems and Compliance, Graniterock
Making regulatory information and vital data accessible to everyone at every level at Graniterock has empowered employees to be their own environmental managers. When they see a red X, they can look to see what action needs to be improved and track changes to hit goals.
The Graniterock team now has full visibility to track the success of their compliance processes and most importantly, they have gained valuable insight into ways they can consistently improve.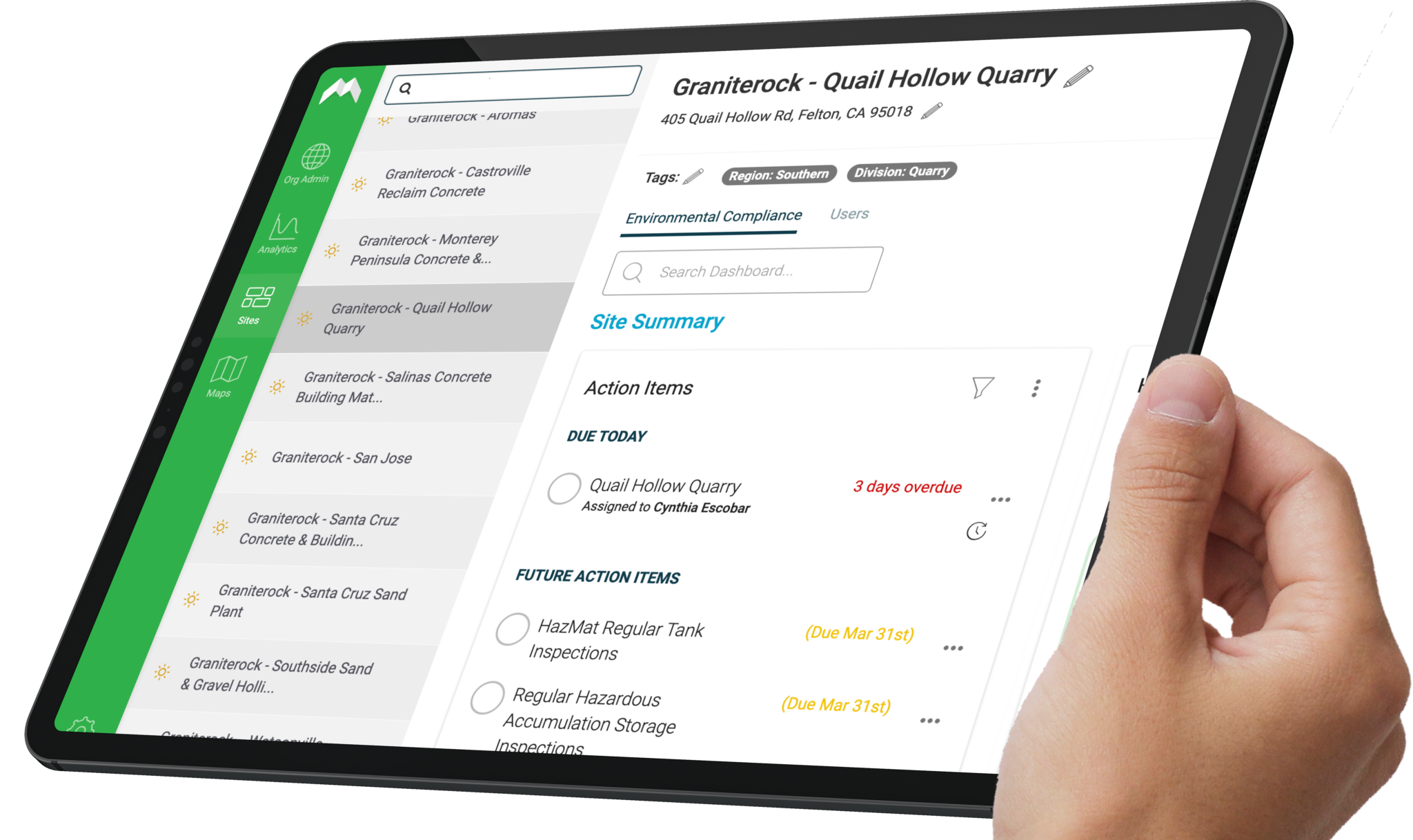 "Mapistry opens up our team to make our business better. It allows us to focus on improving our robust training and validation program.
Create more proactive and accountable teams
Learn why the world's leading industrial companies trust Mapistry to streamline EHS compliance