Air Compliance
How to Manage Air Equipment Inspections with Mapistry
Learn how Mapistry's new Air Equipment Inspection form can help minimize the time environmental leaders spend tracking down and updating air compliance inspections.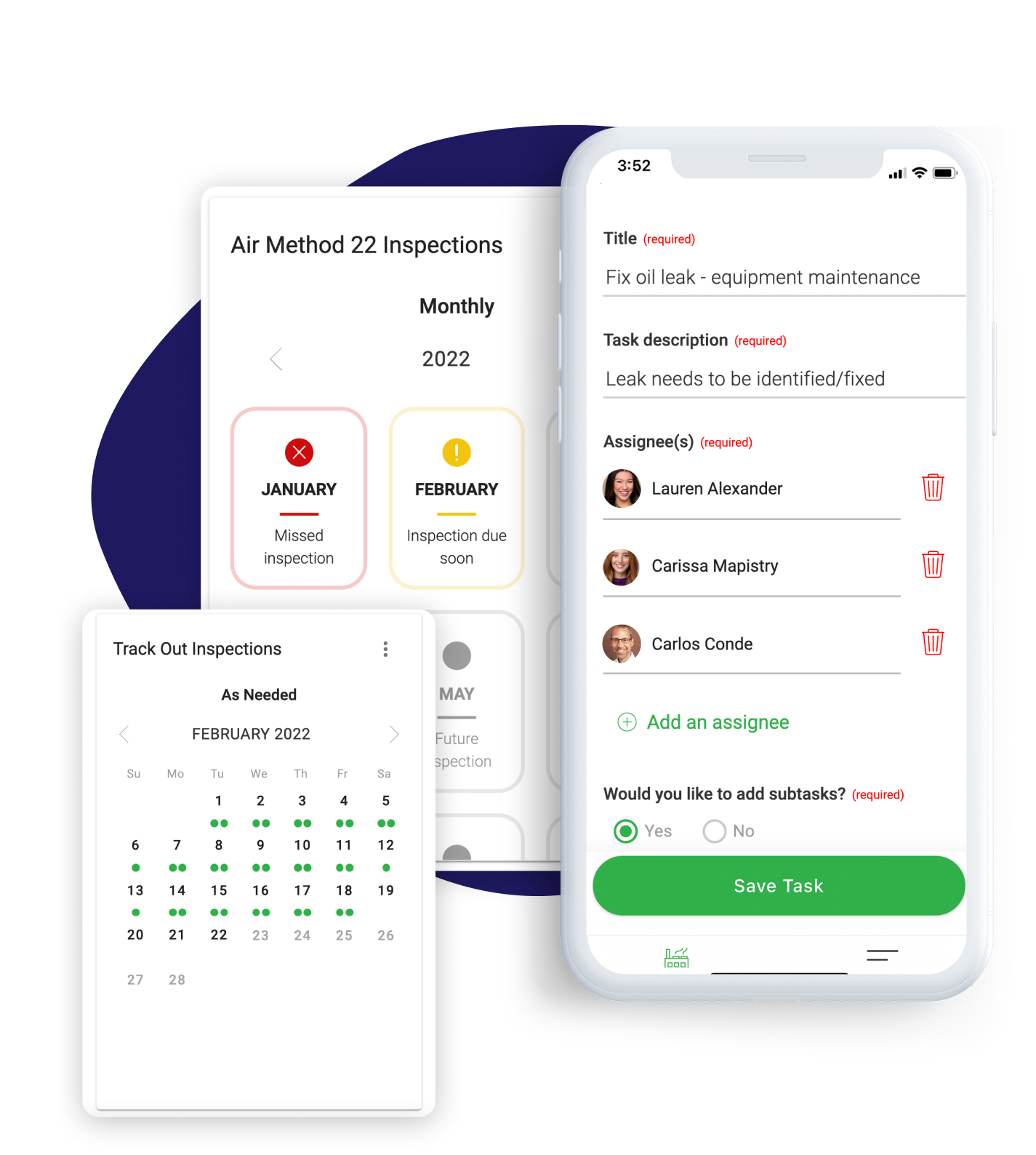 With air compliance regulations continuing to evolve and local communities becoming increasingly engaged, now is the time to ensure your team is on the right track to meet air compliance standards. One essential step towards this goal is putting a system in place to minimize the time environmental leaders spend tracking down and updating inspection forms. Plus, a digital system enables collaboration and compliance across teams and facilities regardless of where their office is today, whether it's a spare bedroom or a factory. This will in turn maximize the time and strengthen the tools leaders have to proactively stay on top of their organizations' concerns and compliance.
Mapistry is a proud advocate of the digital transformation movement to empower EHS leaders with a trustworthy digital system of record; and therefore, is excited to announce the newest feature of the Mapistry Air Suite: The Air Equipment Inspection form!
Now available with our production log and production limit monitoring widgets, this new functionality allows facilities with air equipment, such as baghouses and other dust collectors, to record pressure drop readings, particulate breakthrough issues, and corrective actions all in one digital form. Users are able to fill out forms and assign corrective actions on our mobile application and those gaps are automatically routed to the assignee via our notification system. If the facility has spotty wifi or data, users can even rely on the offline capabilities to meet inspection requirements in the field.
As air permits are updated and new equipment is cleared for use on-site, all future forms can be remotely updated by navigating to the template and adding or eliminating inspection items. No more printing and replacing a quarter's or year's worth of paper for one permit update! No worrying about having the right version or different sources listed on the inspection forms!
To help keep track of updated permits, frequencies can be changed throughout the year to best reflect what each individual facility requires. Additionally, the history of each frequency edit can be seen in the same frequency setting page to audit and ensure permit conditions are met.
Need to export files for external reporting? Inspection forms can be downloaded in this new calendar widget. Simply enter the "Download Inspections" portal and select the date range of inspections that you would like to capture. Whether for regulatory reporting, inspections or just internal audits, you can quickly access and export inspection records.
goal with this new addition is to eliminate the headache of form binders and help move our community in a direction that allows facilities to move ahead of evolving regulations. Interested in learning more about how Mapistry can help with your digital transformation in air compliance?