Environmental Data Platform
Waste Management Software
A comprehensive waste tracking and reporting solution for industrial and manufacturing operations
Full visibility into waste generation and disposal across your organization
Streamline waste tracking, achieve compliance, optimize recycling, reduce waste, and simplify TRI reporting with the Environmental Data Platform—a comprehensive solution for diverse waste tracking and reporting needs. Monitor waste streams, generate reports, and make informed decisions effortlessly, empowering organizations to meet regulatory requirements and drive sustainable practices.
Environmental Data Platform includes
AI-assisted file upload and direct

integrations

Customizable Waste Library
Easy set-up and intuitive formula builder
Exportable data for reporting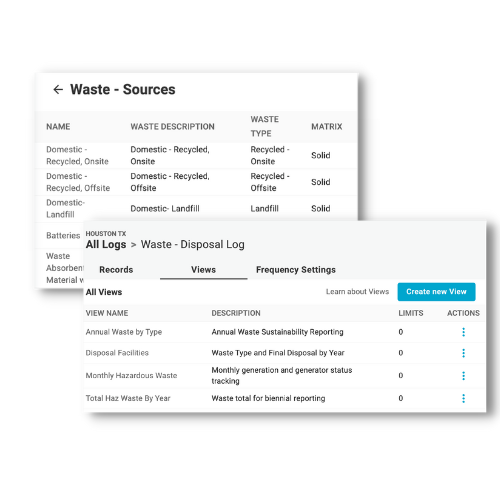 Data Platform Features for Waste Management
Alerts and Notifications

Waste Sources

Data Capture

Automated Calculation
Track Waste Targets in Real-Time
Get real-time notifications when approaching or exceeding waste targets. Mapistry's Environmental Data Platform enables you to swiftly identify any issues within your waste management processes and take immediate action to address them. By having real-time visibility into your waste streams, you can proactively respond to any anomalies, rectify non-compliant practices, and stay ahead of regulatory requirements.


Manage waste streams from a central location
Seamlessly add waste profiles to the library, enabling centralized management of vital asset information, including federal and state waste codes, matrix, density, TRI chemicals, and even company specific categories. By utilizing our software, you can effortlessly keep track of all your asset data in one centralized location, ensuring easy access and usability whenever needed.

Mapistry's software empowers you to effortlessly integrate assets from your Resource Library into different logs, tailored to your specific reporting requirements. This time-saving feature eliminates the manual input of asset information across multiple reports, streamlining your processes and minimizing effort.
Capture data by manual entry, file upload or API
The Environmental Data Platform offers data capture by the way that works best for you, enabling you to combine data from all your sources. You can upload files from your waste haulers, connect directly to your existing systems, or manually enter data and integrate it into one centralized location. This feature eliminates the redundancy of reentering data or copying data between locations.
Regardless of the input method, our platform lets you use all your data together for easy reporting. Our data integration feature makes it easy to streamline your data management process and ensure that you always have accurate and up-to-date emissions data.
Precise and Customizable Waste Tracking
A flexible and integrated calculations engine puts you in full command of waste factors, including densities and TRI chemical percentages, along with equation setup. Tailor your outputs and reports effortlessly to meet your specific operational needs, thanks to the platform's user-friendly and intuitive data setup tools. With these tools at your disposal, customization becomes a breeze, ensuring that your emissions data accurately represents your unique operational requirements.

You have the flexibility to define individual factors and equations for each waste stream or process, or establish standardized factors and equations across your entire organization. This empowers you to stay in compliance with your permit, while maintaining the necessary flexibility to adapt to changing operational conditions.
Core Compliance for Waste Management
Compliance Calendar

Waste Area Inspections

Corrective Actions

GIS Map Builder
Never miss a deadline
Effectively plan, manage, and track all the necessary tasks and deadlines associated with waste management and reduction. From weekly Hazardous Waste Area Inspection, biennial reporting, sustainability reports and TRI reports to reporting and training requirements, the compliance calendar keeps your team organized and ensures that crucial deadlines are never missed. By utilizing the calendar, you can proactively plan ahead, allocate resources appropriately, and stay on top of all compliance obligations. This proactive approach not only helps you maintain regulatory compliance but also minimizes the risk of penalties or fines associated with missed deadlines.
Complete waste inspections from a phone or tablet, offline or online
Set-up a waste area inspection in minutes, configurable to your facility operations, with integrated reminder and corrective action tracking. Have copies of inspection records quickly downloaded if an inspector shows up.
It is easy to extract responses and analyze inspection results, so you can quickly spot issues at the company or site level; with our automated aggregation of all environmental data and documentation, reporting is a breeze.
Track corrective actions from creation to closeout
Documenting deficiencies and taking action is a critical part of your compliance efforts, that's why our platform makes it easy to document corrective actions, complete with photos, right in the app - whether you're completing an inspection or dealing with issues as they arise.
To ensure nothing falls through the cracks, we also send reminders as the task due date approaches. No more searching through old emails or struggling to keep track of corrective actions and due dates - everything you need is right at your fingertips.
Show waste locations with the built-in mapping tool
Our cloud-based maps allow you to edit and update your maps without the need for specialized mapping software or expensive consultants. With features like the ability to easily add or move facility features such as 90-day accumulation areas, spill kits, or material storage areas, you can ensure that your maps always reflect your current operations.
Create more proactive and accountable teams
Learn why the world's leading industrial companies trust Mapistry to streamline EHS compliance