Environmental Data Platform
Air Emissions Data Management
Tools to manage your air permits effectively, ensuring compliance with federal, state, regional, and internal standards.
Real-time emissions data management
Mapistry's Environmental Data Platform is designed to simplify and streamline the management of air emissions. With continuous data management for air emissions monitoring, you can easily monitor your emissions data in real-time. Our platform offers immediate notifications when approaching or hitting limits, so you can quickly take action to address any issues and maintain compliance with environmental regulations.
Environmental Data Platform includes
Immediate limit notifications
Streamlined Data Capture
Asset Management Library
Easy set-up with intuitive formula builder
Export data for reporting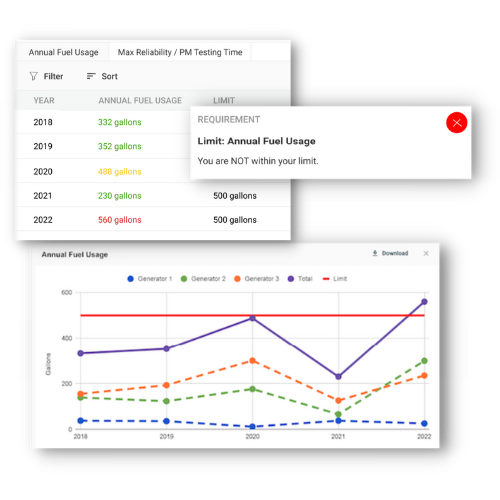 Data Platform Features for Emission Management
Alerts and Notifications

Asset Library

Data Capture

Formula Builder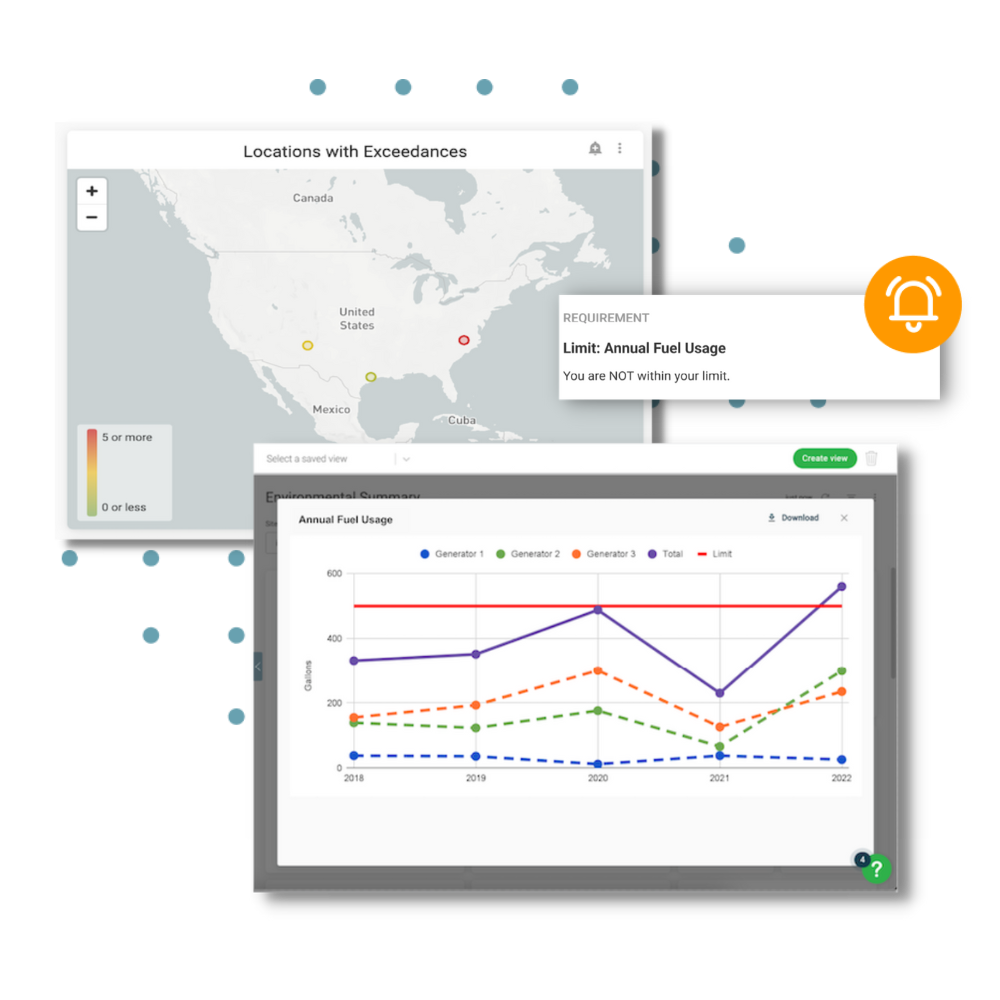 Know right away is a limit is exceeded
Get real-time notifications when approaching or exceeding environmental limits, allowing you to take immediate action and maintain compliance with environmental regulations. Mapistry's data platform analyzes the information with every data entry and checks for any new exceedances, alerting you of potential compliance issues.

We understand that permit requirements can change, so our platform offers easy modification of limits; it's easy to update limits setting in Mapistry to reflect any changes, ensuring that your compliance data remains up-to-date and accurate.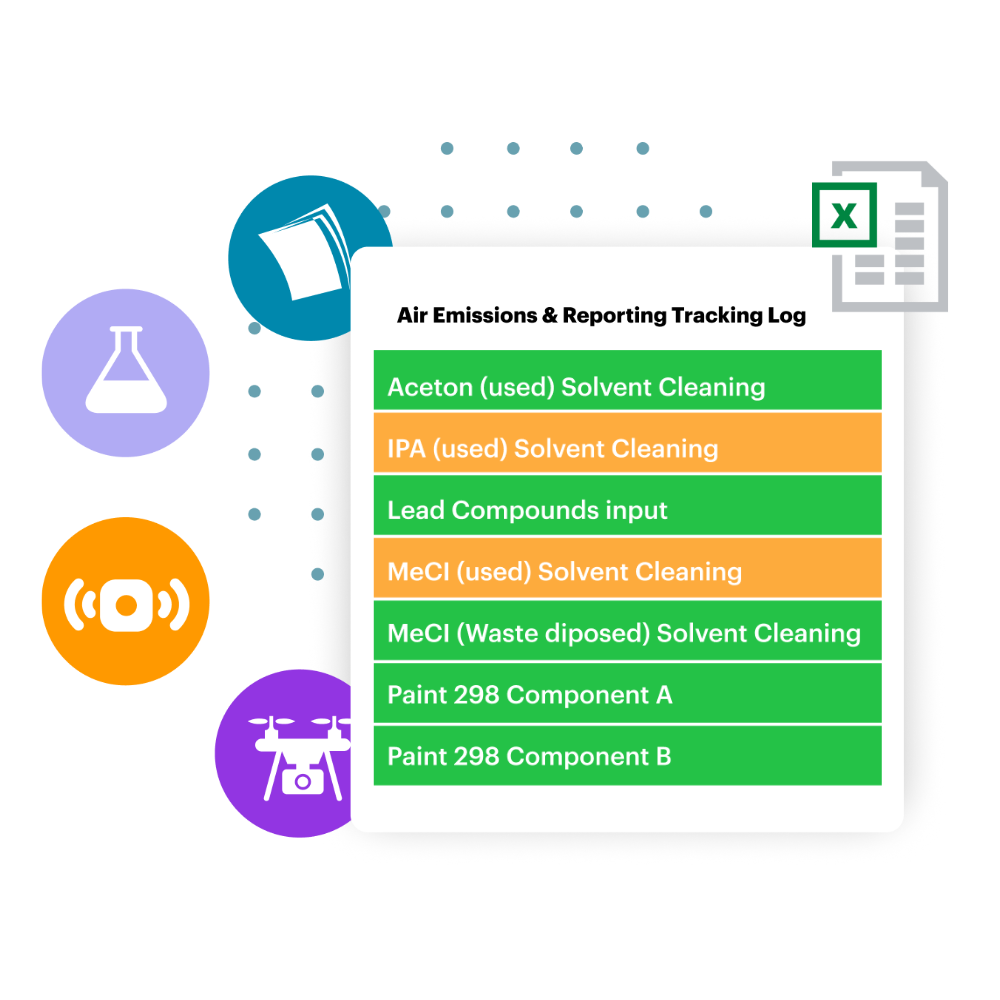 Manage assets and resources from a central location
Our asset management software allows you to easily manage asset information such as ID number, permit number, installation dates, and emission factors. With our software, you can keep track of all your asset data in one centralized location, making it easy to access and use when needed.
We understand that much of your data is related, and for a single asset, you may need to use it in different reports. That's why our software allows you to pull in assets from your Resource Library to different logs based on your reporting requirements. This feature saves you time and effort by eliminating the need to manually input asset information across multiple reports.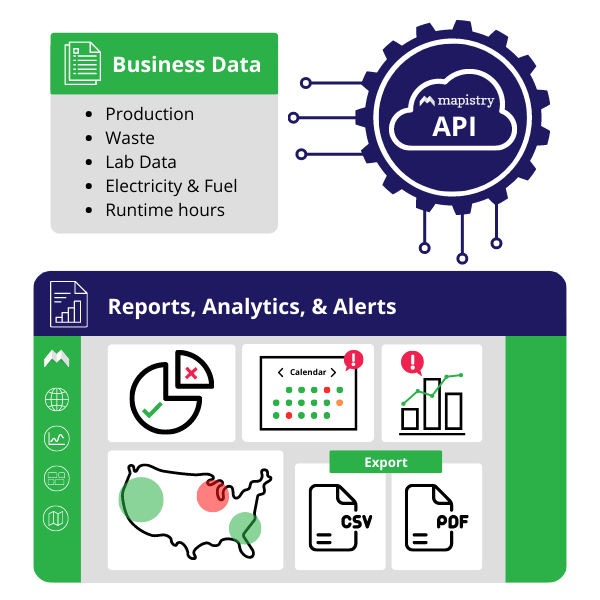 Integrated and intuitive data capture options
The Environmental Data Platform offers robust data integration, enabling you to combine data from all your sources. You can upload files, connect directly to your existing systems, or manually enter data and integrate it into one centralized location. This feature eliminates the redundancy of reentering data or copying data between locations.
Regardless of the input method, our platform lets you use all your data to determine total emissions. Our data integration feature makes it easy to streamline your data management process and ensure that you always have accurate and up-to-date emissions data.
Emissions data that reflects your specific operational conditions
The data platform gives you complete control over your emissions factor and equation setup, making it easy to tailor your emissions management to your specific operational needs. With the intuitive and user-friendly data setup tools, you can easily customize everything to your permit conditions, ensuring that your emissions data accurately reflects your specific operational requirements.

The data platform's emissions factor and equation feature offers a range of customization options, including defining unique emission factors and equations for each asset or process or setting up standard factors and equations across your entire organization, enabling you to maintain compliance with your permit.
Core Compliance for Air Permits
Compliance Calendar

Visual Emission Monitoring

Corrective Actions

GIS Map Builder
Manage monitoring and reporting requirements
Plan, manage, and track your air permits tasks and deadlines, such as permit renewals, inspections, reporting, and training requirements. Keep your team organized, plan ahead, and avoid missing critical deadlines.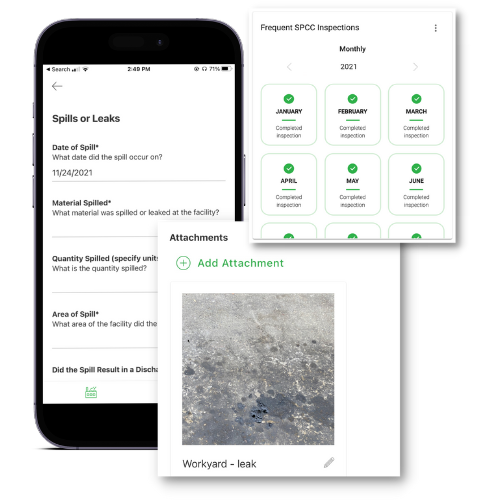 Complete visual emissions inspections offline from any device.
Our library of state and permit-specific forms, including Method 22, is extensive and easily configurable to match your facility's activities And if you need something customized, no problem.
Mapistry also makes it easy to extract responses and analyze inspection results, so you can quickly spot issues at the company or site level; with our automated aggregation of all environmental data and documentation, reporting is a breeze.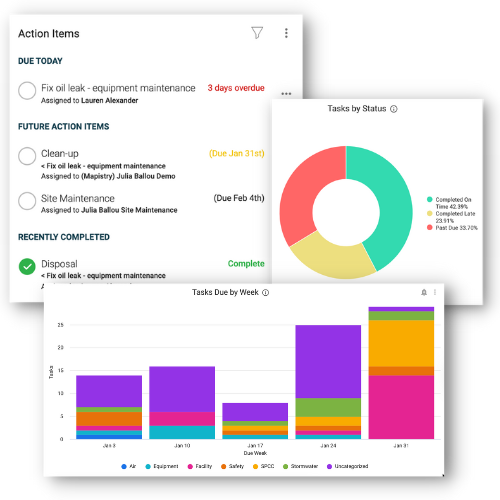 Track permit deviations and corrective actions.
Documenting deviations and taking action is a critical part of your compliance efforts, that's why our platform makes it easy to document corrective action, complete with photos, right in the app - whether you're completing an inspection or dealing with issues as they arise.
To ensure nothing falls through the cracks, we also send reminders as the task due date approaches. No more searching through old emails or struggling to keep track of corrective actions and due dates - everything you need is right at your fingertips..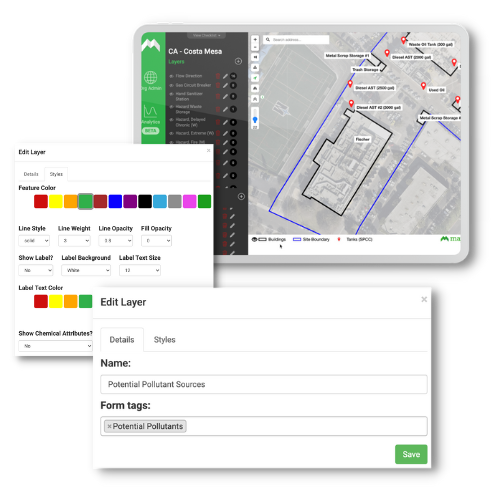 Built-in Mapping tool, keeping maps current has never been easier
Our cloud-based maps allow you to edit and update your maps without the need for specialized mapping software or expensive consultants. With features like the ability to easily add or move facility features such as discharge locations, BMPs, spill kits, or material storage areas, you can ensure that your maps always reflect your current operations.
Incorporating drone imagery is also a breeze with Mapistry, allowing you to complete updates quickly and accurately. The centralized platform allows for easy access to current maps.
Create more proactive and accountable teams
Learn why the world's leading industrial companies trust Mapistry to streamline EHS compliance