A Stormwater Treatment System Love Story
This is the point of the story, where our stormwater superhero nerds got involved. One quick, QISP visit and a quirky approach to DIY Stormwater Treatment System resulted in an ERA Level 1 report that could make a business owner smile 🙂 We recommended some straight-forward Best Management Practices (BMPs), increased sweeping, re-directing non-industrial stormwater to infiltration and irrigate vegetation on-site, and a crazy cool treatment system. At Mapistry, we are hackers, woodworkers, and complete stormwater nerds who love when industrial facilities really dig into their industrial stormwater permit compliance. So what did we get in return?
Our customer, who was already rocking it on our
environmental compliance platform
for the basics, decided to build a capture and treatment system. Because they are builders and thinkers, they built in redundancies, like two sump pumps in their catch basin, which conveyed stormwater to two 2,500-gallon storage tanks. From those two tanks, which allowed Total Suspended Solids (TSS) and particulate metals (a big problem on the site) to settle out, the water was pumped through a bag filter, removing particles down to either 25 or 10 microns depending on the bag filter used. Then as a polishing step, the stormwater went through a 55-gallon container filled with a 50/50 blend of zeolites and activated carbon. At a nice slow flow rate, the residence time allows for absorption of metals to organics (activated carbon) and zeolites. Internal testing of the stormwater showed water quality data below NALs. Better yet, they took the oh so green approach and infiltrated it back into the ground.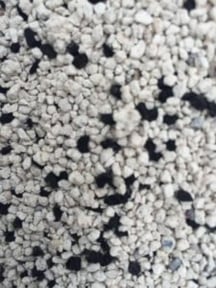 Close Up of Zeolites and Activated Carbon in a Treatment System
Wrap Up and Smiles All Around
By infiltrating they are replenishing the groundwater and eliminating their need to collect discharge samples under the IGP. This saves them at least four days a year of lab fees and time watching the rain….more time for dancing in the rain!!! The best part, they took ownership of stormwater permit compliance and saved themselves $200K, because their treatment system cost less than $10,000 in parts and materials. Oh, their city inspector stopped by a few weeks ago and raved about their diligence, system, and
compliance with the permit.
Happy day for a business owner and all of us at Mapistry!