Customer Success
Mapistry Earns Repeat Recognition as a High Performer in EHS Software by G2 Crowd
Learn how Mapistry users earned us repeated G2 Grid Report Environmental Health and Safety Recognition in fall 2021 and winter 2022.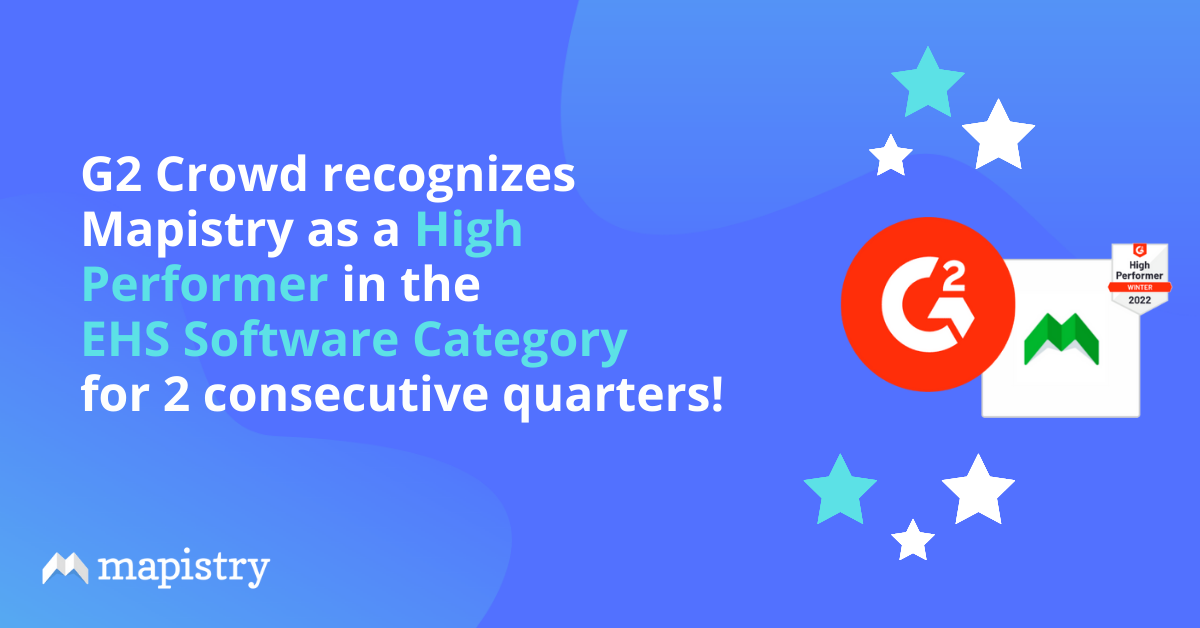 At Mapistry, helping our customers succeed is core to everything we do and that's why we're so excited to announce that G2 Crowd has named Mapistry a "Top Performer" in the EHS Software category for two consecutive quarters in a row! Mapistry has earned a position on both G2's Fall 2021 Grid Report and its Winter 2022 Grid Report for EHS Software, based on high levels of customer satisfaction and positive reviews on the world's leading peer-to-peer review platform for business software, G2 Crowd.
G2 Crowd helps businesses and technology buyers to make the right decisions regarding buying or investing in software and is commonly used by businesses to look for reviews and compare various software. G2 evaluates the various tools each quarter on the parameters of customer satisfaction, ease of use and market presence.
We hold placement in the G2 grid reports in such high regard because it's recognition that comes directly from our customers, and positive sentiments like those in Mapistry's G2 reviews help validate everything we're doing. The world's leading industrial, manufacturing and transportation companies including Georgia-Pacific, Vulcan Materials, MV Transportation, Global Medical Response and hundreds more use our business intelligence platform for EHS to prevent risk by empowering teams to connect, collaborate, and take action around compliance through a single, easy-to-use dashboard.
We are pleased to have earned a 9.7 rating for ease of use (8.7 is the Sustainability Management industry average), and a 10.0 quality of support (9.1 average for the Sustainability Management industry) score. Here is a closer look at how our users helped us make the list, and how we're keeping in check on our vision to fuel a sustainable economy by empowering organizations to make intelligent environmental and safety decisions.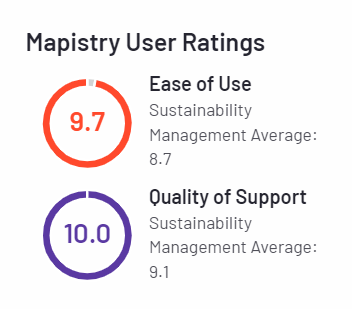 Simplifying Outdated & Complex Processes
Outdated manual methods to manage environmental and safety compliance — often involving paper, binders, notebooks, and email — are simply not dependable. Mapistry strives to help companies increase the speed, quality, and performance of their EHS compliance operations by empowering them with the automation, data management, analytics, insights, recordkeeping, and regulatory reporting they need to achieve best-in-class environmental and safety compliance standards.
Compliance is complicated when most of us do not have time to research "how to be compliant." Securing a third-party company like Mapistry allows us to obtain the best directions and processes to avoid violations through smart technology that we legally comply with.
Problems solved with Mapistry/Benefits realized
Compliance, maintaining a clean sampling area at each of our terminals, or learning that we actually are exempt after maintaining rainwater within our property thus eliminating any run-off.
[I like best how Mapistry] simplifies complex government requirements.
Problems solved with Mapistry/Benefits realized
Using to manage environmental regulation requirements. The system keeps track of key dates and required activities.
The app which makes it easy to take pictures and upload as you do your inspections.
Problems solved with Mapistry/Benefits realized
With the app, you don't have to go to your desktop and upload photos and you see a pattern as to which areas need more attention.
User-friendly
Leading manufacturers use our portfolio of product suites and services to simplify and streamline the way they manage, track, and optimize the performance of their environmental compliance programs. From site-level to corporate, everyone needs to access and utilize the necessary tools to ensure compliance and safety. By making a user-friendly app and dashboard, you're able to keep everyone on track using the best tools to move your business forward.
Moving from a binder to Mapistry made everything more organized. Managers can just open Mapistry and see everything without having to be on-site. Communication between team members has greatly improved and people are actually held accountable for the completion of corrective actions and tasks. Environmental compliance is much more visible and right at our fingertips. Customer service is amazing and every question is always answered.
Problems solved with Mapistry/Benefits realized
Environmental compliance has significantly improved. Before Mapistry, managers were less likely to know if inspections were completed and on time. Mapistry has completely erased that issue and made everything always available. We had problems with holding people accountable to completing inspections and corrective actions. Now we know those are getting done with the ability to add pictures. Communication has been completely streamlined between team members and managers.
The features are easy-to-read, simple to use from the app, and the data is organized in a database.
Problems solved with Mapistry/Benefits realized
Consistency in completing inspections on time; creating a team effort to remediate issues and a compliant facility/organization. Planning versus reacting is the key
The versatility of it all makes our file-keeping easier. When it comes to auditing, it's all found in one place.
Problems solved with Mapistry/Benefits realized
Data logging into different binders. It's all in one place. Saves time, space, and data can be accessed remotely.
Customer Support
We love our technology, yet it's not the only factor driving our industrial environmental compliance solutions. Our customer experience team is there every step of the way, and we are determined to equip companies with access to education and subject matter expertise. We offer manufacturers access to regulatory expertise and insights, so you are better prepared to comply with legal obligations while reducing the time, cost, and legal risk involved.
I sincerely appreciate the responsiveness of the Mapistry team. As a long-time client, I have had the opportunity to watch Mapistry grow a very talented and personable team that understands its clients' needs.
In a time where customer service has failed to even meet mediocrity, Mapistry re-sets the bar to a level I expect from my service providers.
We have also engaged Mapistry for professional engineering and consultation services reducing the workload on me personally in turn opening bandwidth for implementation and management of other initiatives. The heavy lifting vastly reduces my time burdens to focus on other competing priorities.
Mapistry has been such a great asset to my compliance schedule here at work. They've got the tools and support to help bring inspections into the new age and that helps make companies successful. Mapistry is also continuously learning what they can do to support industries more and streamline inspections and data gathering. They are constantly creating new tools and releasing training videos to optimize their support.
---